Upper Mai C Hydroelectric Project (UMCHEP)
The UMCHEP is a run-of-the-river (RoR) type hydropower project with an installed capacity of 6.1 MW. However Power Purchase Agreement was done with Nepal Electricity Authority for 5.1 MW based on Q40 percentile exceedence. The UMCHEP is located at Mabu and Sulubung of Sandakpur Gaunpalika of Ilam district. The average annual energy generation of UMCHEP (5.1 MW) is 30.297 GWH.
The electricity generated from both the plants have been evacuated through 18.5 kM Mabu-Ilam 132 kV transmission line connected to National Grid of NEA at Godak Substation.
The total cost of both the plants including 132 kV transmission line is NRs. 3380 Million.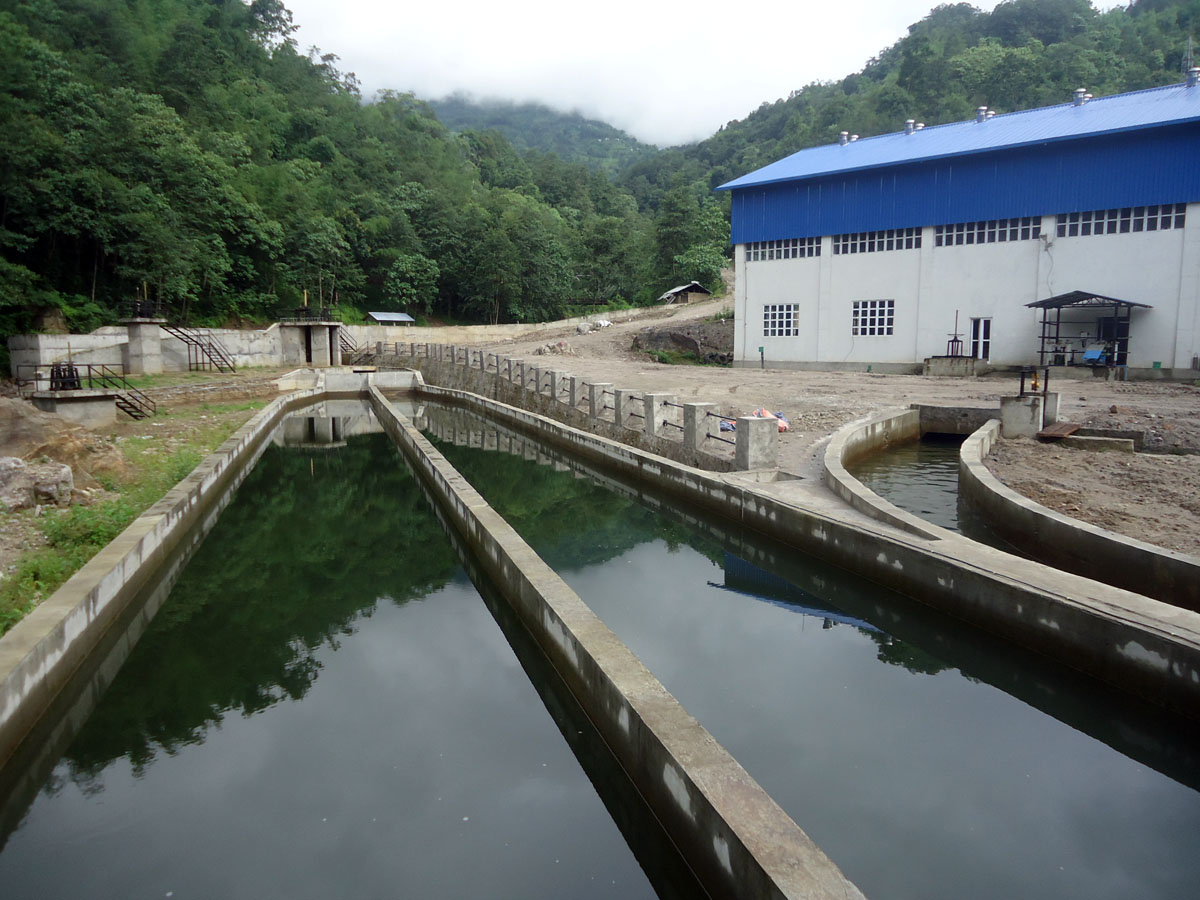 Headworks of Upper Mai C HEP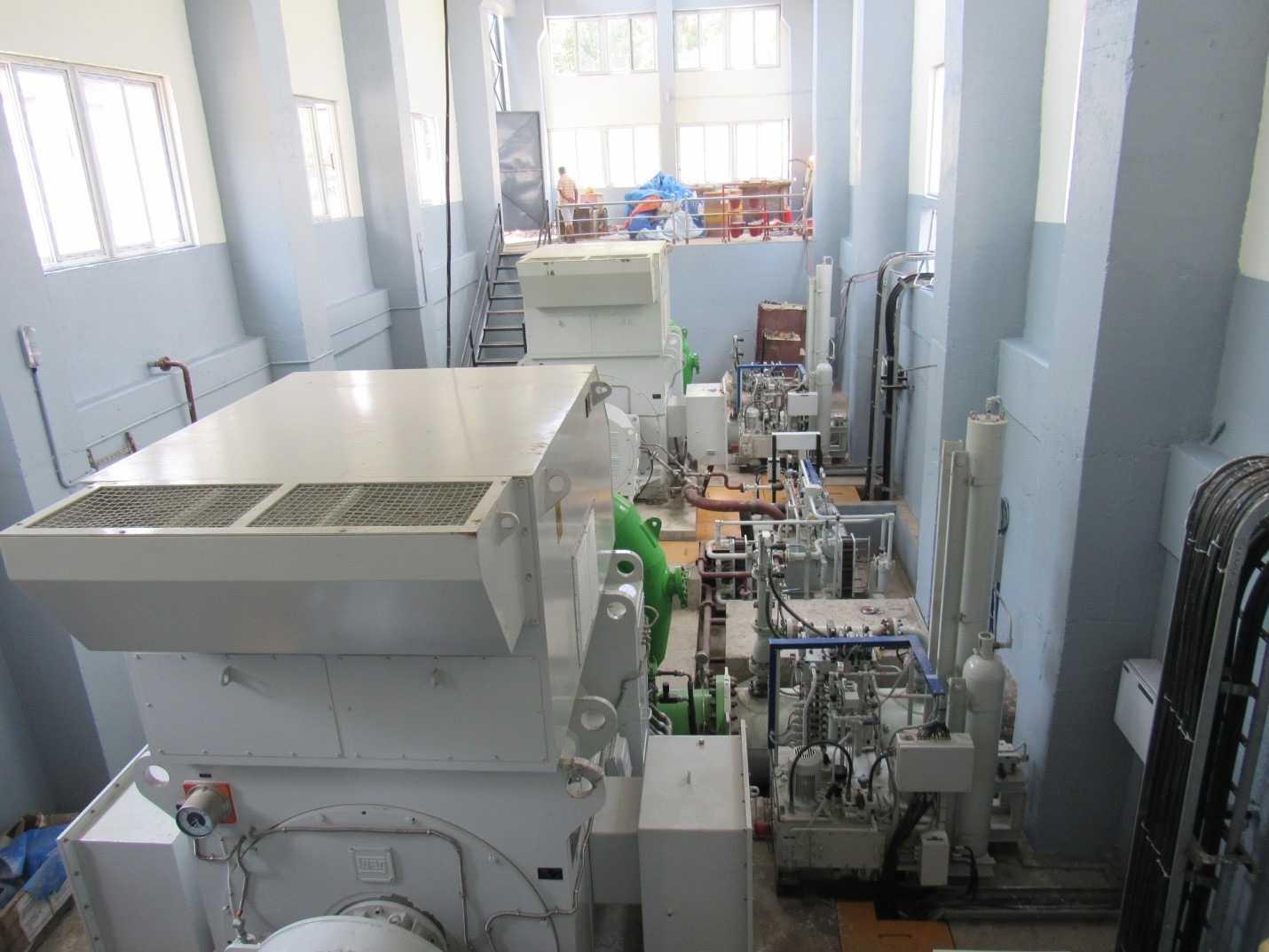 Powerhouse of Upper Mai C HEP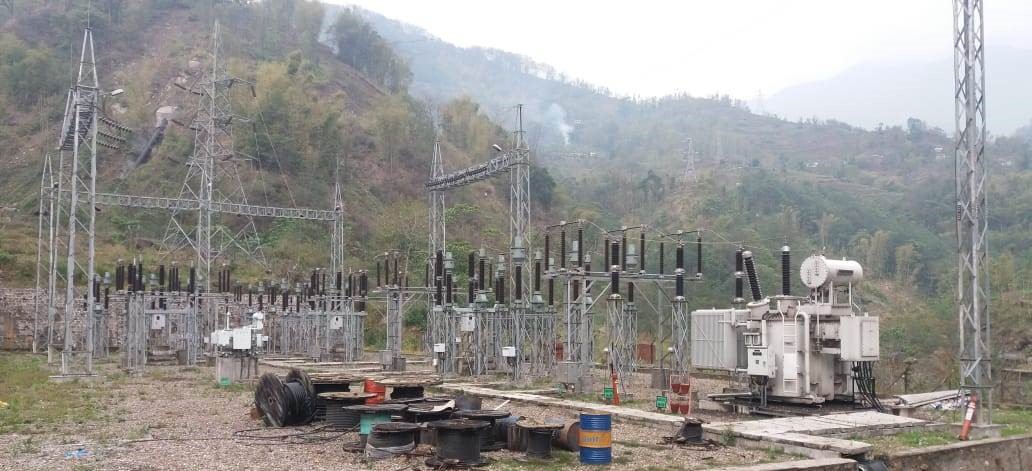 Switchyard of Upper Mai C HEP
Project Salient Feature
Upper Mai C Hydroelectric Project (5.1 MW)
A. Hydrology
Catchment area at Intake:
70.00 km2
Design discharge :
4.62 m3/s
Gross head:
161.0 m
Net head @ full discharge:
155.25 m
Installed capacity:
6.1 MW
B. Headworks
Diversion weir
Type:
Free Overflow type
Crest elevation:
1245.21 m above masl
Height of weir:
3.62 m
Crest length:
11.0 m
Intake
Type:
Bottom type
Size:
1.5 m wide X 1.2 m high X 9 m length
Sill elevation:
1243.61 m above masl
Sediment Trap
Type:
Bottom trench type
Size:
0.62 m width X 9.0 m X 1.08 avg height
Flushing Gallery
Type:
Culvert type
Size:
23.7 m long X 0.6 m wide X 0.8 m height
Approach Canal
Type:
Concrete rectangular
Size:
1.5 m wide X 2.5 m height X 5.0 m length
Settling Basin:
Type:
Concrete Hooper base
Number of chambers:
2
Size (parallel section):
43.0 m long X 4.0 m wide X 3.15 m height
Normal water level:
1244.31 m above masl
Collection Pond:
Size:
14.43m long X 10.4m wide X 3.53m height
Normal water level:
1243.51 m above masl
C. Waterways
Mai Khola Crossing:
Length of siphon:
62.0 m
Size:
1950 mm internal dia 10 mm thick pipe
Headrace pipe
Total length:
396.0 m (including river crossing)
Internal diameter:
1950 mm
Type:
Headrace tunnel
Shape:
Inverted D-shape
Length:
976.0 m
Cross-section:
2.0 m wide x 2.0 m high
Surge shaft
Type:
Surface
Internal diameter:
4.0 m
Height:
17.5 m
Maximum surge level:
1248.74 m
Minimum surge level:
1238.12 m
Rock Trap
Length:
6.0 m
Width:
2.0 m
Depth:
1.0 m
Type:
Surface/buried
Length:
953.0 m
Internal diameter:
1.48 m and 1.4 m
Thickness:
10, 12, 14 mm
Anchor blocks/Saddle support:
18 Nos / 103 Nos
D. Powerhouse and tailrace
Powerhouse
Type:
Surface
Size:
24.00 m x 6.75 m x 18.05 m
Floor elevation:
1080.00 m above masl
Tailrace
Culvert:
Box culvert
Culvert size:
41.0 m x 3.2 m x 1.2 m
Invert Level:
1077.40 masl
E. Mechanical and electrical
Turbine
Type:
Francis horizontal axis
Rated net head:
154.30 m
Rated discharge:
2.32 m3/s
Rated output:
3050 kW
No. of units:
Two
Axis level:
1081.05 m above masl
Generator
Type:
Synchronous
Number of Unit:
Two
Capacity:
3800 KVA
Voltage:
6.6 kV
Power factor:
0.80
Frequency:
50 Hz
Excitation system:
Brushless
Efficiency:
96.0%
Transformer
Type:
Three phase
Rating:
8 MVA
Voltage ratio:
6.6 kV/132 kV
Frequency:
50 Hz
Efficiency:
99%
| | |
| --- | --- |
| F. Transmission Line | Combined with UMHEP |
G. Energy Generation (5.1 MW)
Dry season energy:
5.126 GWh
Wet season energy:
25.170 GWh
Total Energy:
30.297 GWh